La Ferme Font Seque/ Our farm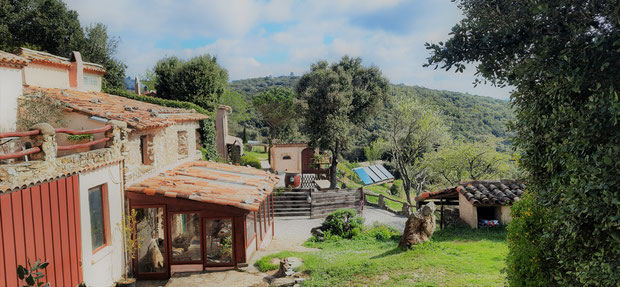 Font Seque is an estate at the foot of the Cevennes in the Natural Park of Haut Languedoc. The farm was built from a derelict ruin and is remote, quiet and surrounded by pristine garrigue forests. Illuminated by the sun of the Midi, it's a truly extraordinary place on earth as you can no longer often find in Europe. And hardly anyone who doesn't know about this secret would ever stumble across it by chance.The panoramic views are breathtaking: to the south extends the Mediterranean coast, to the west you can see the Pyrenees on a clear day.
Experience and discover a true Mediterranean natural landscape with its abundance of flowers, fragrant herbs and rare species.
The farm and its surroundings offer many activities: hiking, horseback riding, swimming, weekly markets, village festivals, historic attractions and many more - or you could simply take a break from everyday life and enjoy the vibrant stillness of this unique place.