Riding programmes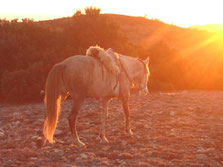 We encourage guests to compile their own riding programmes according to their interests and the choices listed below. With information about your wishes and prior knowledge we will then arrange a suitable programme for you. We recommend that you book your riding programme well in advance as we cannot guarantee any free capacity upon your arrival. All programmes start with an introductory lesson in the way we work, as well as the basics of communicating with our horses.
Riding lessons 

We offer lessons for beginners and advanced learners. These lessons may focus on various areas, suited to your needs and skills. We attach great importance to the training of your bodily awareness, the ability to sense movements as well as a steady refinement of commands.
Riding lessons with stallions are also possible.
Our horses are ridden with bitless bridles.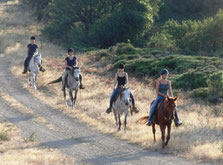 Outings between 1.5 and 3h
Our steady-footed horses will carry you to the most beautiful places within the natural park. Discover a diverse, contrasting flora and fauna. Depending on the season it will smell of wild thyme, rosemary or lavender. Ascend to lookouts with magnificent panoramic views - unspoiled natural landscape as far as the eye can see. On narrow paths, we will then head back to our Ferme through shady chestnut and oak forests.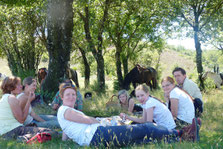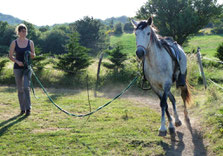 Body language and ground work
Body language is the foundation of communicating with horses.
Learn to guide, move and excercise a horse with subtle signals, to understand the body language of the horse and to use your body to communicate consciously.